26th Annual NYSPHSAA Intersectional Wrestling Championships
March 4, 1988 - March 5, 1988 @ Onondaga County War Memorial (Syracuse, New York)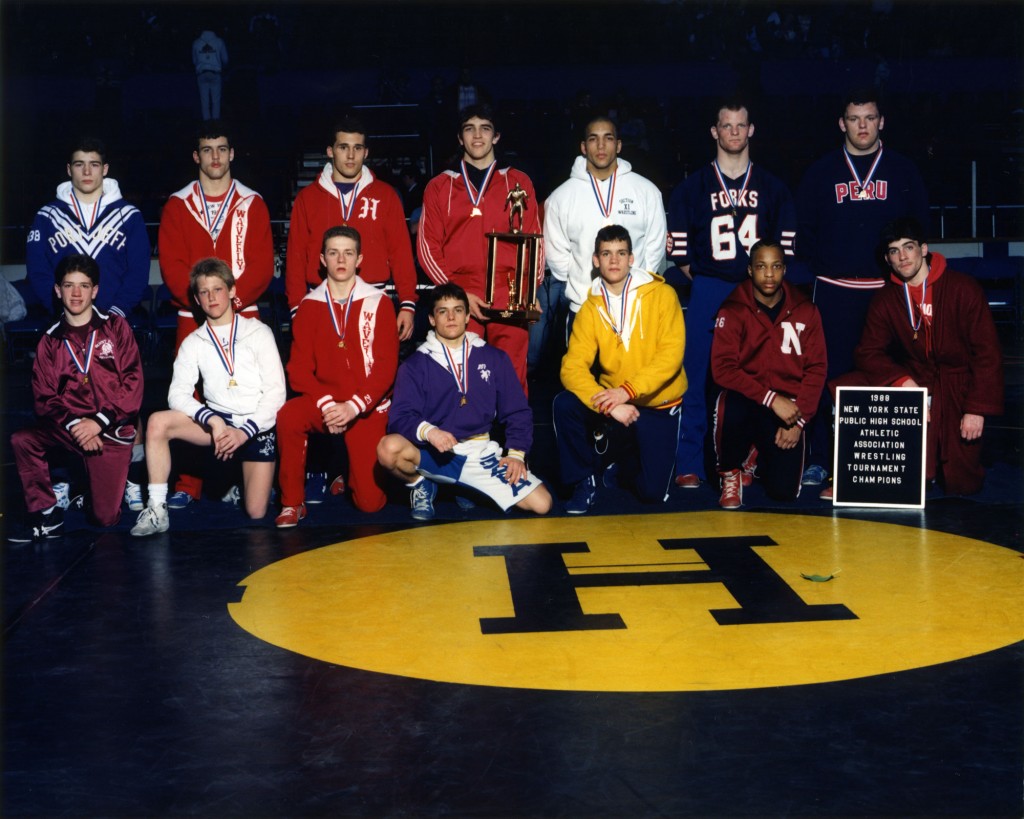 1988 NYSPHSAA Intersectional Wrestling Champions
FRONT ROW: Scott Hughes (Burnt Hills-II), Frank Fronhofer (Salem-II), Doug Shaffer (Waverly-IV), Lou Rosselli (Royalton-Hartland-VI), Lance Banfi (Sachem-XI), Marcel Cooper (Nyack-I), Tony Ferrara (Sidney-IV). BACK ROW: Jamie St. John (Port Jefferson-XI), Tom Kingston (Waverly-IV), Rick Sadwick (Hiltom-V), Ethan Bosch (Iroquois-VI), Adam Mariano (Comsewogue-XI), Jim Shear (Chenango Forks-IV), Jeff Way (Peru-VII). Provided to armdrag.com by NYS Wrestling Chairman Reed Hawke. Click for larger image.

Varsity

Teams

Allegany, Bayport-Blue Point, Bethlehem, Bloomfield, Brighton, Burnt Hills-Ballston Lake, Byron-Bergen, Canandaigua, Canastota, Catskill, Chenango Forks, Comsewogue, Connetquot, East Rochester, Fox Lane, Freeport, Fulton, Grand Island, Half Hollow Hills - East, Hermon-DeKalb, Hilton, Indian River, Iroquois, Irvington, Island Trees, Jamestown, Johnson City, Jordan-Elbridge, Levittown Division, Long Beach, Lowville, Madison, Massapequa, New Hartford, Niagara Falls, North Babylon, Nyack, Owego, Peru, Pine Bush, Plainview-Old Bethpage JFK, Port Jefferson, Queensbury, Ravena-Coeymans-Selkirk, Red Hook, Rondout Valley, Roy C. Ketcham, Royalton-Hartland, Sachem, Salem, Saratoga Springs, Sauquoit Valley, Sherburne-Earlville, Shoreham-Wading River, Sidney, South Jefferson, Southwestern, Spencerport, Sweet Home, Tottenville, Valley Central, Vestal, Victor, Walton, Watertown, Waverly, Whitehall, William Floyd

Region Final

Section XI 220, Section IV 197.5, Section III 173, Section II 161.5, Section VI 154, Section V 123, Section IX 99, Section VIII 84.5, Section I 80.5, Section VII 42.5, Section X 28, PSAL 14, CHSAA 13

Outstanding Wrestler Award - Ethan Bosch (Iroquois/Section VI)

Championship Final (1st)


Consolation Final (3rd)


Consolation Final (5th)


Championship Semifinals



IF YOU HAVE ANY ADDITIONAL PHOTOS OR DOCUMENTATION FROM THIS EVENT, CONTACT INFO@ARMDRAG.COM.

Comments (26th Annual NYSPHSAA Intersectional Wrestling Championships)